FLORA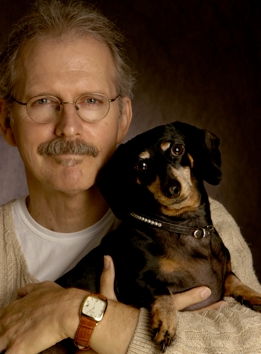 In 1998 we adopted Flora, a two year old dachshund who had just been rescued from a puppy mill in Kansas by Hearts United for Animals, a no-kill shelter located in the mid-West. Flora had numbers crudely tattooed on her belly in green ink, a primitive and painful form of identification often used by mill owners to keep track of their inmates. Despite the appalling circumstances of her first two years, which included food extended with sawdust, cages exposed to extreme weather (Flora's mother, Bahnie, lost the tips of her ears to frostbite), and puppy production in dogs as young as six months, Flora was one happy little girl.
During the first few months of her housebreaking training (she was an A student), I kept her with me in my studio, where she reclined under the piano, usually resting her head on one of my feet, while I wrote the material for the album which would eventually become "Barefoot on the Beach."

That year I sent my friends a picture of us posed at the piano with the title "Rodgers and Wienerstein," since she was my faithful collaborator on all those compositions, as she was for every record since then.
We've put together a slide show to remember her. As these pictures will attest, our time together was what you might call a montage of happiness. Sorely missed, our once-in-a-lifetime girl,
Flora Franks
1996-2010



We encourage your support of Hearts United for Animals, a national no-kill shelter, sanctuary and animal welfare organization dedicated to the relief of suffering. We support our local Humane Society and ask that you remember to do the same.