Recordings
(The Discography page has song lists
and links for ordering)

The Music In My Head (2018)
Michael Franks:
The Dream 1973-2011 (2012)
Time Together (2011)
Rendezvous in Rio (2006)
Love Songs (2004)
Watching the Snow (2003)
The Michael Franks Anthology:
The Art Of Love (2003)
Barefoot on the Beach(1999)
The Best of Michael Franks:
A Backward Glance (1998)
Abandoned Garden (1995)
Dragonfly Summer (1993)
Blue Pacific (1990)
Camera Never Lies (1987)
Skin Dive (1985)
Passionfruit (1983)
Objects of Desire (1982)
One Bad Habit (1980)
Tiger in the Rain (1979)
Burchfield Nines (1978)
Sleeping Gypsy (1977)
Art of Tea (1975)
Michael Franks (1973)
Newest CD
The Music in My Head



The CD is available from Amazon.com
, and local record stores, with digital downloads from iTunes and Amazon.com.

Click here to download the
Companion Notes.
New Release from Rhino France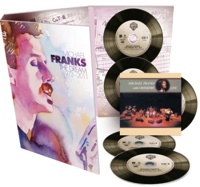 Rhino Records France has released a 5-CD set
"Michael Franks: The Dream 1973-2011".
This 73 track box set contains hits, fan favorites, rarities and so much more. Orders now at Amazon.com
Tour Schedule - 2019

Saturday, May 4 - Mableton, GA - Mable House Barnes

Saturday, June 15 - Washington, DC - DC Jazzfest at the Wharf
Wednesday, August 21 - Detroit, MI - Aretha Franklin Amphitheater
Michael's performances are always announced here as soon as they
are confirmed.